Over time documents of interest will be added to the site. The links will open a pdf file which can be viewed or printed out.
Pensioner Guards
Following is a list of known Pensioner Guards who came to Kojonup. Ten men have the Lot number (eg P1) of the ten acres of land that was granted to them – along with 15 pounds to help them establish a farm in the Kojonup area. The date refers to when they are believed to have taken up the land. Some of these men added to their land and settled in the community with their families. Others left the district, did not take up land or were satisfied with their smaller blocks.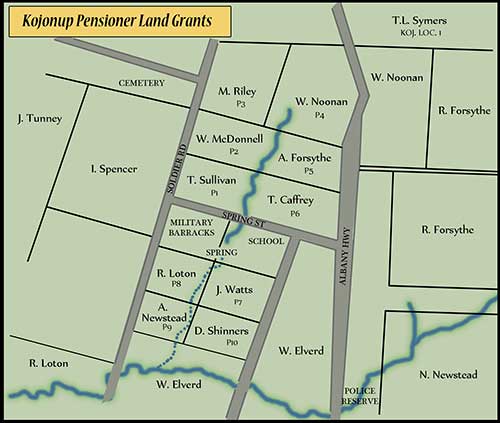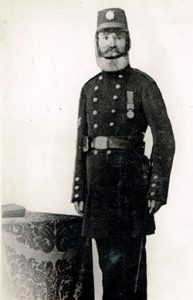 Sergeant John Tunney – Sergeant in Charge Albany, bought P6 and P12 in May 1863 and the family settled in the district. Thephoto of this Pensioner Guard in uniform is believed to be the only photo of these men in uniform.
Sullivan Timothy (P1) – 1852
McDonnell William (P2) – 1852
Reilly Michael (P3) – C.1853
Noonan William (P4) – C.1853
Forsythe Ambrose (P5) – arrived pre 1853, granted block 1862
Caffrey Thomas (P6) –C.1853
Loton Robert (P8) 1861 – Corporal
Newstead Nathaniel (P9) mailman 1852 – acquired block later.
Shinner Daniel Gleeson (P10)
Weir William – after 1861
Goodbody Mather [Martin] 1865
Watts James (P7) – C. 1868
Ford John 1869-74
Bates John
Hubble W.
Weeny

Rock